Sustainable Industry Challenge 2023: future collaborations unveiled
We once again participated in the Sustainable Industry Challenge, an initiative in the Netherlands that brought together innovative companies to foster sustainability in the chemical industry.
Our challenge: Reclaiming our aramid high performance fibers from rubber products
In our pursuit to create sustainable solutions, particularly for automotive tires, we participated in this significant event alongside other challenge owners. Our goal was to form alliances that foster sustainable innovation.
 
At the Sustainability Industry Challenge finals on November 16th, we engaged with experts in rubber and advanced materials recycling. Valuable insights were shared, and the potential for collaboration was immense. We are excited to announce our selected winners from the SIC Finals.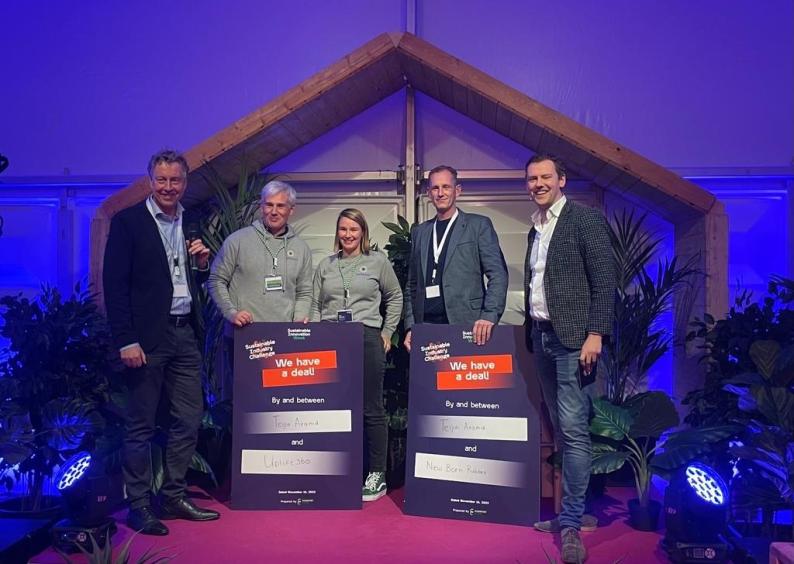 New Born Rubber: Experts in rubber product recycling, with whom we will be exploring opportunities in fiber separation.

Uplift360: A greentech startup specializing in advanced materials recycling for defense and security sectors.

Our sustainability practices
We have the ambition to contribute to a sustainable future, by reducing the footprint of our own productions and contributing to reduction of impact in the entire value chain. As such, we are developing innovative routes for the recycling of aramid and aramid-containing materials. Reclaiming aramid fiber from various applications is already feasible. However, a hurdle persists in extracting clean aramid fibers from rubber goods, an issue we aim to address through innovative collaborations.
Bert Gebben, Principal Scientist at Teijin Aramid, explains the success of our engagement in the Sustainable Industry Challenge three years ago.
"We were lucky that our challenge was the winning one, which led to a very fruitful collaboration. We also kept in touch with a number of other scale-ups participating in the challenge, so when the opportunity came to join the Challenge again, we didn't hesitate for a moment."
Bert Gebben, Principal Scientist, Teijin Aramid
About the Sustainable Industry Challenge
The Sustainable Industry Challenge is a collaborative platform inviting global innovators to explore and implement eco-friendly solutions in northern Netherlands. Orchestrated with the aid of local private and public organizations, the initiative aims to join scale-ups with large enterprises to address industry hurdles and forge partnerships.